S-protector was developed to improve the combined function of metal retractor and plastic wound protector used in surgery.
Features and Strengths
Burn prevention
Prevent a stray energy burns caused by an energy device
Reduce a pressure on skin
Protect a skin edge and reduce a pressure caused by surgical device
Provide a flexible space for surgery
Retract skin softly and provide a flexible(round or oval) space for more efficient surgery
Improvement of prognosis
Reduce a pain after surgery, prevent SSI(Surgical site infection) and minimizes a scar on a neck
5 models of S-protector for Thyroid surgery and 4 models for general surgery have been succefully launched and selling in about 70 major hospitals in Korea. Also, we are actively expanding overseas markets in EU, Asia and America.
Download a brochure

Susul-N, a safe and effective Anti-Adhesion Gel, is released with HA, composed of excellent biocompatible and biodegradable agent.
Features and Strengths
Formulated with pure hyaluronic acid, excellent biocompatibility and biodegradability, and is naturally absorbed in the human body after completion of the anti-adhesion function, making it a safe and effective anti-adhesion agent.
Reinforced the most critical weakness(low viscosity) of gel-type adhesion barrier so it works accurately to the place applied.
Provided optimal viscosity using MCL(Multi staged Cross Linking) technology by creating optimal muco-elasticity, the most essential characteristics of HA.
Demonstrated excellence through clinical trials.
(Seoul national university hospital, Chung-Ang university hospital, Dongguk university hospital, VHS Medical Center)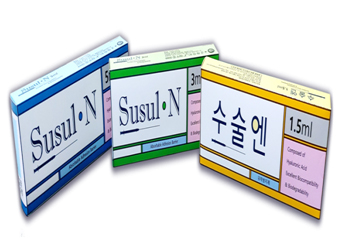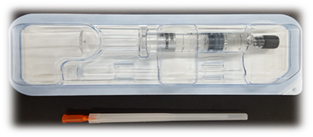 Joint-N, a biocompatible and safe synovial fluid substitute with HA, is released.
License Information
Classification: Graft/prosthesis, biomaterial
Product Name: Joint-N
License Number: 제허 21-625호
Product Composition: Hyaluronic acid 5mg/ml
Packing Unit: 10ml×1 Prefilled syringe 1EA/Box
Features and Strengths
Washes the physiological saline used for arthroscopic surgery on the knees and shoulders, also replaces lost joint synovial fluid temporarily to reduce mechanical friction in joint area when physical actions take place.
Works like a lubricant by replacing lost joint synovial fluid from arthroscopic surgery so it provides less pain and recovery of joint functions.
Provides a product with the highest level of quality control and assurance.(GMP from CE and FDA)